On an English country estate a young governess is charged with care of Miles and Flora, two orphans. But the idyll turns into a confusing world of horror. Two ghosts, deceased servants, seem to want to take possession of the children entrusted to them. But do they really exist? A subtle, self-conscious exploration of the haunted house of Victorian culture,
The Turn of the Screw
can be read as a straightforward frightening ghost story. But are the apparitions of Quint and Miss Jessel what they seem? James imbues his text with sexual and social unease, which give the story an eerily equivocal atmosphere. Might these apparitions actually be in the governess's head?
Director Immo Karaman lets the worlds of spirits and the living collide with one another in a contrasting black and white aesthetic. An opera that speaks in short, cinematic cuts, of emotional distance and alienation and the abysmal depths of the human psyche.
Benjamin Britten
Libretto by Myfanwy Piper, after a story by Henry James

Marco Lee / Long Long, The Prologue
Sarah Brady, The Governess
Jakob Geppert, Miles
Weronika Rabek, Flora
Monika Walerowicz, Mrs. Grose
Sunnyboy Dladla, Quint
Barno Ismatullaeva, Miss Jessel
Niedersächsisches Staatsorchester Hannover
Stephan Zilias / Valtteri Rauhalammi,
musical directors
Immo Karaman,
stage director

Thilo Ullrich, set design
Fabian Posca, costume design
Susanne Reinhardt, lighting design
Philipp Contag-Lada, video design
Fabian Posca, choreography
Regine Palmai, dramaturge
Supernumerary Assoc. of the Staatsoper Hannover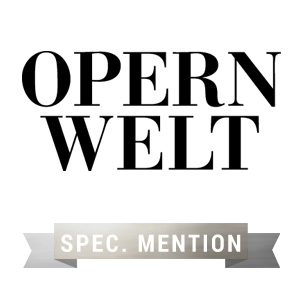 OPERNWELT
Season Review 20/21
Survey Critics Statements
IMPORTANT STREAM 2021